Hey Everyone! I have been keeping my eye on a dog that has been hanging out at work (Hovensa) for a few months. She's now there every night but shows signs that she could have an owner (collar, well-behaved but a bit nervous). The security guard told me to "go with her" last night but I can't bring her home to my 2 dog house. I'm posting a picture to see if either anyone recognizes her or if someone is willing to take on another sweet dog. PM me if you can help! Thanks.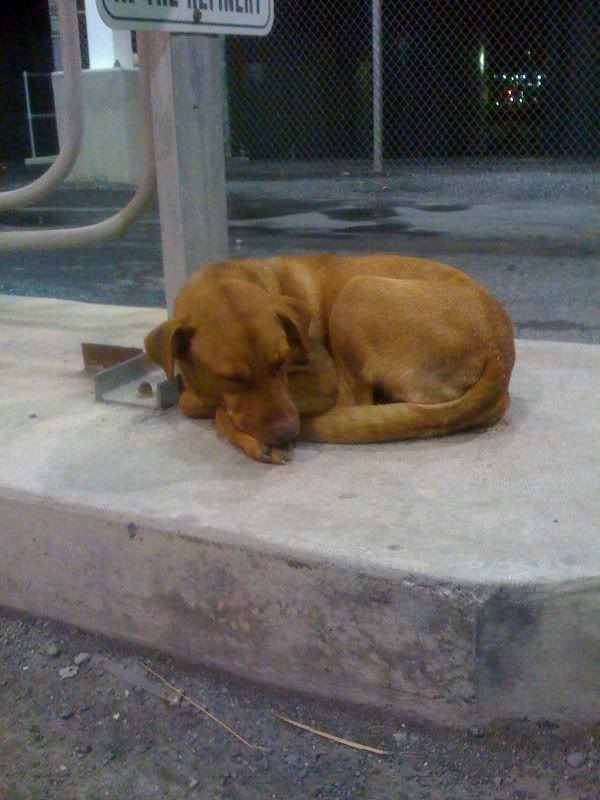 Posted : August 22, 2008 11:54 am
That looks the very same dog I saw running around on Estate Blessing yesterday...
Posted : August 22, 2008 3:47 pm
Probably is...it looks like she has a routine and spends the night at Gate 2. She has a collar on so I figured this was worth a try 🙂
Posted : August 22, 2008 4:34 pm
Please take a look at Page 18 of today's Avis . . . there is an add for a missing dog that includes a picture.
Does the one that you see by work have a red collar?
The phone number on the add is 340-643-6889
Posted : August 22, 2008 6:34 pm
I saw that too, I really don't think it's her but it's worth a try. This one's face is different. Thanks for keeping it in mind!
Posted : August 22, 2008 8:22 pm
Just an update...this is NOT the dog from the Avis ad today. This dog is a female so keep your eyes/ears open for an owner/prospective owner!
Thanks!
Posted : August 22, 2008 10:37 pm
ok i'll try it again,if she's a tame dog, i will take her on and give her the care she needs instead of the wild ones we tried to placate the last time around,she looks big enough to fit into our household, i guess my test from now on, if if i can walk up to the animal and let it sniff and it lets me do the petting thing i'll take it home and care for it.
Posted : August 22, 2008 11:07 pm
trw,
I've always enjoyed reading your posts. You are a teriffic person, please let us know how the sniff test goes.
Molly
Posted : August 22, 2008 11:31 pm
trw, i would also like to know if you take in the dog! she looks very sweet but a bit sad laying there on that cement!
She wants to come home with you, I can tell.
Em
Posted : August 23, 2008 4:45 am
Hey Everyone! (especially trw), the owners came for the dog because someone talked to someone who saw this picture! Actually, I guess it might not have been the owners (since the guard wouldn't have known) but the security guard said that people came for it so thanks for your help.
Posted : August 23, 2008 1:41 pm
My post above should have been on the Master's Degree thread. Sorry. Glad the owners were found for the pooch!
Posted : August 23, 2008 2:44 pm