Sorry to hear about your latest trials and tribulations, Tami.
A solution for the skeeters might be "Magic Mesh" screens for the doors. They're slit down the middle, and the two sides attach with magnets, so people and pets can run through without trashing them, and they'll just close back up. Quite nice. Home Depot had them, but I'll bet you and/or your hubby could make them if they don't.
Hang in there - you know well by now that the balance usually tips toward the good side, especially when the breeze comes back.
Posted : October 2, 2012 2:58 pm
Thanks busht. I have been a bit of a whiner lately haven't I? Nice breeze today.
Posted : October 2, 2012 3:45 pm
Oh shoot Tami, what an awful experience. And the trusting expectation of your young one that you can 'fix' things..... Gee.
I've seen the commercials for that mosquito mesh and that sounds like a good plan to me.
I sent you my email:-)
Here's hoping some breezy,mosquito free, hurt critter free days are ahead-- sounds like you deserve them!
Paula
Posted : October 2, 2012 9:25 pm
tami what do you think happened to the iggy? maybe a dog?
when i was in vermont neighbors installed with mosquito thingy that runs off a gas tank. it draws the bugs in somehow and they get stuck to this sticky paper. no elec. used just a grill gas tank. and the tank runs for a long time.
have you ever seen those things? i thought a great idea and its on wheels so you can move around. could probably be used in your courtyard. very safe and no chemicals.
sounds like you have days like i have. still no phone, centipede bite still healing, and of course mosquitos. (where did they come from all of a sudden) i scream all the time......get me out of here. but right now no one around to hear me except the dogs.
hang in there and have some rum. lol
Posted : October 2, 2012 11:17 pm
when did you get bit by a centipede?
Posted : October 3, 2012 12:09 pm
last week speedy. my welcome back to the island bite.
Posted : October 3, 2012 3:01 pm
you have had a lot of welcome backs
Posted : October 3, 2012 7:36 pm
Dixie, I am sorry for the welcome centipede bite. I think I got bitten once. I think means we don't know what bit me. I was sitting by our pool and something very painful bit me on the arm. I jumped up and ran to the bathroom and put alcohol on the bite. My arm swelled up twice its size and felt very hot to the touch. We finally went to the emergency room and they gave me steroids. Hubby later found a dead centipede close to where I was sitting. I guess you saw what bit you but what were your symptoms and what did you do about it?
When we first moved here we had so many centipedes in our house. We had a 2 year old and my elderly mother so I was totally freaked out about them. I now have our house treated once a month. I hate putting insecticide in our house but I could not stand the thought of our baby or my mother getting such a painful bite. Do you have your house treated?
Posted : October 5, 2012 1:07 am
tami we self treat and that usually works. if we would alot of bugs then would call the bug guys.
what did i do when i was bitten???? well first i killed the thing and since i was by myself i sort of freaked, not sure what reaction i would have, since on hand i took ring off incase swelling. which it did fast. poured vinegar on finger, (web site said pee would work) lol
then ice water for swelling, then benedryl cream, hand swelled the next day and felt like someone put in vise grips. for days it itched so bad i was afraid my hand was going to get infected. but now its fine. remembering back it was the yucky feel of the ped. as it wrapped around my hand, eww gross.
glad it was on the light switch to bedroom and not in the bed, i check now really well everything.
it prob was one that bit your arm. some people have different reactions.
yes speedy alot of welcome backs....too many, phone is working now (still some static) thanks to brandon the east end innovative guy.
now my car is acting sick. i think with all bad things happening its a SIGN. 🙁
Posted : October 5, 2012 10:25 am
Posted : October 5, 2012 12:18 pm
Good Morning and Happy Saturday!
I wish we could start this thread up again. It's nice to hear the things we share with each other living on our beautiful islands.
Our week in Paradise. Hubby finally got the bobcat running again and began to try and fix our washed out roads here in CV. It ran great for a couple of hours and then began to overheat. Sigh, another project. Something is always breaking at our house. Good news is that JJ is getting a crash course in repairing all sorts of things. This week he learned to change a water pump on our truck and to drive the bobcat.
We decided to not to make our annual visit to the states this summer and instead finish up some projects on the house and work on our boat. Poor boat. We bought her 3 years ago and she's just sitting, waiting for some love and attention. We finally began the huge project of installing a new engine, rewiring the whole boat, installing new standing rigging, sanding, painting and polishing. A huge but immensely satisfying job. We are also a great source of amusement for some of the people who live at the marina. That's another story. I imagine that story will grow as we have a new boat neighbor who is extremely concerned about everything we do. I have decided to make him some cookies.
Have a great weekend!
Tammy
Posted : September 14, 2013 1:02 pm
Posted : September 14, 2013 8:18 pm
I will chime in as I just realized that last week marked our 9TH MONTH on island! Wow where the hell did the time go!! Are the USVIs in some time warp? I feel that it was only a couple months back! Um its SEPTEMBER??? whoa.
I did a night snorkel the night after that big rain - NOT SMART lol. Was the scariest night snorkel ever! No visibility of course and I was just waiting for a set of teeth to come have a taste because I had some newbie snorkelers splashing about loudly. Luckily, were all ok. I got stuck down at Hull Bay Hideaway in the midst of the rushing river aka. the road. Ive seen some severe flash floods in AZ but that was pretty insane - the beach is GONE on some spots. I spent all of yesterday in the water at Hull bay pulling out the trash from that insane run off, and was surprised to see SO many fish around. Way more than usual. I also went out to the reef to happily see that my "fragged" stag-horn held tight and is doing quite well with new growth. Hopefully it all hangs in there after the run off. I really need to get down to the UVI and volunteer with the coral projects. Don't worry thats the replica shark from Shipwreck Tavern LOL. I posted it on my facebook and got some hilarious reactions. That blue bin is in my driveway, and a good measurement to how much water actually came down. Impressive. The picture of my boyfriend standing on the hill... well that WAS all beach - totally flat.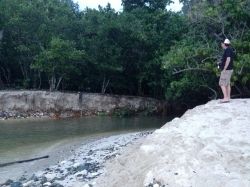 Recently pulled up nearly my entire garden as the slugs have decided they too, like organic food! Replanted yesterday. Also made our own tobasco sauce from my gi-nourmous tobasco pepper plant that has decided to put out over 200 peppers!! Dey be HHHOOOTTT too. Ouch. My avocado tree is ROCKIN too and we are putting avocado on everything lol. I made some guacamole with bacon the other night - mind-blown. A huge bowl was gone in just a few minutes. I am delighted that they are not the watery ones but rich and buttery. Yum. I am having some real issues with my tomoatos which is frustrating because everyone says they grow so well here. Mine keep splitting and don't grow large. I just ordered this NutriBullet thing that is like a juicer but actually is able to liquify the pulp and seeds so there is no waste. I love and miss a health place in AZ that sold fresh organic juices - that you made yourself. So I am excited to have my home made juices back.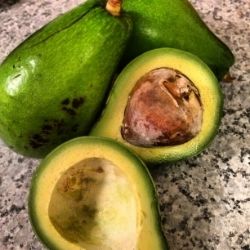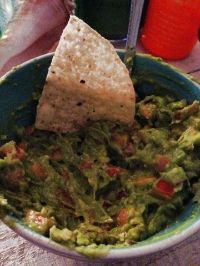 I went to the No Flea Boutique last week and hit the JACKPOT! Some brand new awesome pillows, really pretty purple glass shot glasses, an antique egg coloring dipper thingy, and a full set of brand new prismacolor colored pencils! It was so very ironic because I haven't drawn or painted in years. Decided to start back up recently so found a $60 set of pencils for $10! My poor boyfriend is in the frenzy of Back to School season and he is down ALL but ONE of his managers so if you go into OMX take it easy on them lol. I am getting my first taste of "off season" thats for sure. We are super slow and I am pinching my pennies but also having a lot of fun hanging out with friends since I am not busy at all. Getting a little sir crazy here and there but working on websites, farting around with photography - drawing and generally being lazy is kinda nice.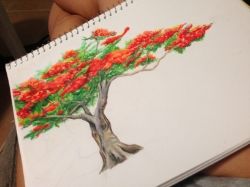 Looks like we've adopted an island kitty. He is a beautiful bengal that is SOOOO sweet! He absolutely loves my boyfriend. He comes and goes as he pleases and I think its good for my 2 lazy indoor prissy girls to have a little excitement. They seem to get on pretty well with minor hissing lol. At first I thought he just came around when he wanted food but its now become apparent that he really wants attention. He is a sweetie.

I almost forgot to mention how BEAUTIFUL it has been lately. I love the rain (despite the damn mozzys) and love the cool breezes we get high up here on northside. I even had to turn off the fan the other night as I was chilly! Great weather and today is SO clear I can see boats all the way over on Jost! (with binocs)

Posted : September 14, 2013 8:59 pm
AandA: Beautiful pictures! You are settling in nicely.:-) I'm not sure if you are doing the night snorkels for business or for fun, but I would be careful about being in the water right after a big rain.*-)
Posted : September 14, 2013 10:28 pm
Hey Tami! Glad to hear you're keeping busy and not suffering from the idle hands routine! As far as mossies and suchlike are concerned and going back on this thread a little, I bought one of those mosquito magnetic doors a year ago online. It was VERY inexpensive and I figured if it lasted for several months it was worth it but it's still up there and does a good job. Great for the furballs as they come and go throughout the day (as does one of my neighbor's dogs!) and the only minor issues I have are twofold. One, it's on the "back end" of the prevailing breeze but when there's a change of direction it's not heavy enough to stay closed when the wind's up; and one of my cats suffers from sporadic "Mad Half Hours" which entail careening around the deck and then taking a flying leap through the mesh door, continuing the careening around the interior and then leaping back through the mesh door which of course I just closed. The routine usually encompasses about 6 flying leaps in and 6 out. It can be a little irritating but fortunately these episodes are of short duration.
I also bought a "Dynatrap" critter-catcher which has virtually eliminated the problem I had with mossies outside and those who managed to make it inside and plague me. Love the fact that it's eco-friendly, super quiet and does the job!
I'm jealous of AandA2VI's avocados. My tree was absolutely loaded last year (good thing I made loads of guacamole and still have plenty in the freezer) but this year it went on strike. My cherry tomatoes did OK but finally expired and I now have three more exotic varieties healthily on their way, while two varieties of chard and three varieties of lettuce have already provided me with some good salads. My neighbor regularly drops me off hands of bananas - and the suicidal double chocolate chip double fudge brownies I used to serve at the pub have taken on even more sinfully decadent properties with the addition of mashed bananas!
Cheers!
Posted : September 14, 2013 11:09 pm
Hi Yearasta, how are you and yours? Hi Tart! Hope you are doing well. No idle hands here. Sometimes I wish for some idleness but then I would be bored. A and A so glad that you are doing well here in paradise. I love your pictures. Did you do the drawing of the beautiful flamboyant tree in your picture?
I had a good day. My guys have been playing airsoft with a group on Saturdays. For 5 or 6 hours each Saturday I have alone time. I cannot tell you how wonderful that is. Though I usually just clean the house but it is awesome to know I can do anything I want with those hours. They stop off for dinner somewhere afterwards so I don't even have to make dinner. I love my Saturdays.
Posted : September 14, 2013 11:51 pm
Thanks EE. Yes I do them for work... we all agreed that I shouldn't do it but needed the $ plus it was the groups last night in STT. Its been a week and no staph/mursa. Whew! I WONT be doing that again, that is for sure!
dougtamjj yes thats my first doodle in like 8+ years.
OT I was told that this tree had about 100 last year. This year we've got a few dozen which I am ecstatic about. I was worried they would be all watery, I cant eat those kinds. I am jelly of the bananas.... I hate store bought ones but love bananas. Trade???? 😀
Posted : September 15, 2013 12:29 am
beautiful drawing. just beautiful
Posted : September 15, 2013 11:06 am
We had a great Sunday. We went to rainbow beach about noon. Snorkeled a bit and had lunch. After lunch we did a long snorkel to all the buoys, saw some really big fish and octopus. On our way back we swan with 2 green sea turtles. The smaller on had a bite out of the rear right flipper but was ok. He wasn't afraid of us at all. Don't know if that is a good thing. We didn't touch him, only followed him along. My son dove down to the bottom and swan right next to him. Wish I had brought my camera. He can hold his breath a really long time and is very comfortable "free diving". I have met several people lately who prefer this type of diving. I would rather "breathe" and not hold my breath. My son, who just turned 10 has only dove in our pool with tanks, would rather "free dive" right now. No snorkel, only googles. I think once he gets used to using tanks he would enjoy his dives much more. We will see.
Our day in paradise.
Tam
Posted : September 16, 2013 11:38 pm
When I joined this forum many years ago it was primarily St. Thomas and I contributed a lot of items on sailing, boating, etc. Over the years I have seen it go more and more to St. Croix issues and frankly, I have nothing to contribute but still stop by from time to time to just stay in touch.
Pamela
Posted : September 19, 2013 4:01 pm
Hi Pamela! I hope those Crucians don't scare you off! 😀 I am glad that they participate because this is Virgin Islands Moving Center, not just St Thomas or St John. I am tired of some of the boards where it is supposedly USVI, but is completely " I Heart St John." (Not that I don't love St John, but...);)
Posted : September 19, 2013 8:33 pm
Hi Pamela! Haven't seen you post in a very long time. I hope you are doing well.
Posted : September 19, 2013 10:50 pm
Pamela, so good to hear from you. How are you doing?
Posted : September 19, 2013 11:46 pm
A good week on St. Croix. JJ and I decided to take a week off school and just work on the boat. I get a little crazy when we skip school but we both needed a break. The boat is coming along but we still aren't sailing. I thought we would be out there 2 years ago but life got in the way. It is awesome, however, to have this family project. Something we all do together. Something we can all take pride in. I give J projects and get him to help in the day to day things that need to get done but mostly I let him explore and go fishing. His favorite place to fish is F dock by the mangroves. He would love to spend every day there. I give him a walkie talkie and we check in with each other throughout the day. Today when I checked on him he told me he was coming back to the boat because the people on F dock just didn't like him and didn't want him there anymore. When he got back I asked him if he had done anything wrong. He said he didn't think so. Just fishing. They don't want me on their dock. Kinda hurt my feelings for him but I told him not to go back there. I guess I will go over there tomorrow and ask if he did something wrong.
Hubby was a deep sea diver in the Navy. After that he was a navy civilian diver for the government. He repaired and cleaned all the Navy ships and subs underwater for many years. Today he went under our boat to clean the hull, repair the bow thrusters, inspect, ect. That just grossed everyone out that he would dive on the boat in the marina. Yucky water. I just giggled. He dove all up and down the east coast for 20 years in the shipyards. Zero visibility and major poopoo water. Green Cay is a piece of cake. I was a bit grossed out when he came out of the water will all kinds of stuff crawling all over him. Yes, I sprayed him full force with the fresh water hose. When he was in the water I saw little crabs crawling on his head. Yuk!!! He laughed at me and said, " I can't wait to get you in the water tomorrow with me to help." Gulp. I seriously don't know how I am going to do with that. I hate creepy crawlies.
Posted : September 27, 2013 12:46 am
Please tell me more of the dock he was told to leave.
Was he fishing from the dock or fishing from a boat around the dock?
We had these thing occur in California.
We had residents that owned docks on lakes and rivers that thought they could dictate who could fish around them until the fisherman got together and found a federal regulation regarding "navigatable water" where as if you could get to the dock from open water they had no right to restrict you from fishing it.
The reason I'm asking is that I'm just starting to fish the water around STX.
CD
Posted : September 27, 2013 12:09 pm