Virgin Islands Moving Center
The U.S. Virgin Islands offer island living under the U.S. flag. Located in the Caribbean this island group of four main islands and a few dozen small cays and islets, is known for its: year-round warm weather; beautiful white-sand beaches; wonderful watersports opportunities; Caribbean culture with American influence; and a laid back rhythm of life. It is these traits that tempt prospective newcomers to dream of calling the U.S. Virgin Islands home.
Insuring a successful relocation to the Virgin Islands, whether its seasonal or permanent, requires researching all aspects of living in the USVI from finding a job, to getting a drivers license, to finding a new doctor; and planning accordingly. This site will help you. It provides great information and is dedicated to Moving to and Living in the USVI.
What VIMovingCenter Users are Saying
I wanted to let you know that you have put together one of the best and most informative websites I've come across about relocating. I live in Hawaii and was considering a move to another island. Your site is really intelligent and well put together. It really gave me all of the information I would want about VI. I wish you all success!
Thanks for all you do. You guys need to understand just what a vital support this website's message board is to people. When you feel like there is no one out there for you and you've made the move and feel all alone, you can always find someone to help you - by either just talking or really helping you out. Just knowing that I can reach out - to give or get a lift is very comforting.
This "VIMovingCenter" website and message board you have created is a really terrific tool and a wonderful thing! Thanks so much for creating it - it has so much information. What a terrific service you offer. Thanks.
Moving to the U.S. Virgin Islands?
The Settlers Handbook for the U.S. Virgin Islands is your guide to moving to St. Croix, St. Thomas, St. John and Water Island.
The current 18th Edition, released in January 2016, will help you explore your dream of island living. A solid reference book, it was first published in 1975. That's 40 years of helping people move to the islands. A must read. Order today.
Order Today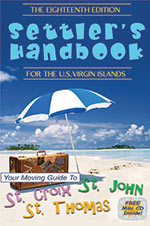 Only $17.95
$11.95
National Geographic Trails Illustrated St. John Map
This is a National Geographic map for the Virgin Islands National Park on St. John, U.S. Virgin Islands. On side 1 is a full map of St. John. Other islands are also included such as Great Thatch, Lovango Cay, Durloe Cays, Leduck Island and the west end of Tortola.
Buy Now
Advertise
Join VIMovingCenter.com Today!
Tell prospective and current residents about your business.
Proud Supporter
VI Olympic Team
For over 45 years, the Virgin Islands has celebrated the Olympic tradition by sending our athletes to compete.